Gloves-off, to-the-point debate, discussion and disagreements!
A unique platform on which some of the biggest, most respected names in the industry will discuss the influence of the marketing department; satisfying the consumer motoring journalist but at the same time producing fun and safe dynamic attributes; best tuning techniques; the application of new technology. The gloves will be off, frank discussions will be held, and knowledge exchanged!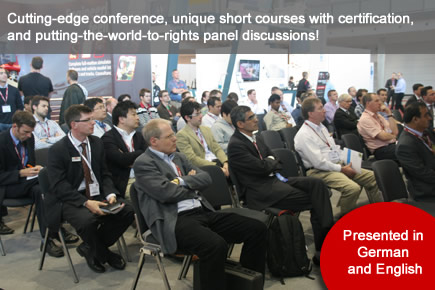 Presentation and Panel Debate Topics
OEM Forum
The application of new technologies
Tuning and development for safety, not headlines
Vehicle Dynamicists: servant to the marketing department and journalists?
Is the vehicle dynamicist now simply a safety engineer?

Key vehicle dynamicists taking part already include:
Dr.Ulrich Eichhorn, managing director, German Association of the Automotive Industry
Dr. Peter Schäfer, director chassis development, Porsche AG
Magnus Roland, founder and owner, SA2B
Damian Harty, senior staff engineer, CAE Group at Polaris Industries
John Heider, vehicle dynamics development, Cayman Dynamics
Tim Roebuck, function leader, Vehicle Dynamics, R&D, Lotus Engineering
Chris Regan, senior project manager, Honda Research & Development
Andy Kitson, vice director Chassis, SAIC Motor UK Technical Centre
Karsten Schebsdat, manager of Passenger Car Chassis Tuning
Jürgen Pützschler, senior engineer, Volkswagen Ag
Simon Newton, chief engineer - Driving Dynamics, Williams Advanced Engineering
Ruediger Hiemenz, engineering director, MANDO Corporation
Guy Mathot, head of Vehicle Dynamics Development, FORD C Cars & Focus
Dr Flavio Farroni, vehicle dynamics researcher at Naples University and technical consultant at Ferrari SpA
Dr Jorge de Jesús Lozoya-Santos, professor, Universidad de Monterrey
Jitendra Shah, senior research engineer, Ford Forschungszentrum Aachen GmbH
Shelav Jain, MSc, Delft University of Technology
Alexandre Català, Vehicle Dynamics, Corporate, Applus+ Idiada
Dushyant Wadivkar, team leader, Robert Bosch GmbH
Dr Joost Venrooij, project leader, Max Planck Institute for Biological Cybernetics
Professor Saied Taheri, associate professor and director, Virginia Tech
Marco Fainello, senior engineer, Ferrari SpA & Diego Minen, Managing and Technical Director, Vi Grade
Maelle Dodu, advanced chassis engineering, Jaguar Land Rover
Dr.Claudio Ricci, engineering specialist, Fiat Group Automobiles
Mandar Hazare, doctoral research assistant, Clemson University International Center for Automotive Research (CU-ICAR)
Alexander kruse, manager NVH Team, ZF Fridrichshafen
(Content subject to change)